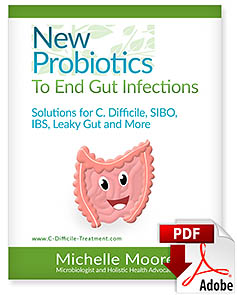 Thanks for requesting the free e-book: New Probiotics to End Gut Infections. Please follow the e-book download instructions below to take permanent possession of your e-book.
Download Instructions
You must DOWNLOAD the e-book file to your computer, phone or tablet to take possession of it, per the instructions below. The e-book is in Acrobat Acrobat (PDF) format – the most common document format on the internet. Most computer systems have Acrobat Reader already installed (including PC and Mac), but some may not. Acrobat Reader is free if you don't have it. See the instructions below on how to get Acrobat Reader if needed.
Click on the large green underlined text below to open the e-Book. You may also right click on the underlined text and select "save as" or "save link as" if you prefer. NOTE: opening the e-book is NOT the same as downloading it. You can open and read the e-book, but unless you also download it, the e-book will be lost when you close it.
Save the e-Book to your computer, phone or tablet. Verify that the e-book file is saved to your computer, phone or tablet. The file name should be "new-probiotics-e-book.pdf" or similar. Be sure to remember the location you save it to. You MUST save the actual PDF file to your own computer, phone or tablet if you want to read it again in the future.
Start reading your new e-book! If you are new to PDF files, learn more about them on our Acrobat FAQs page.
---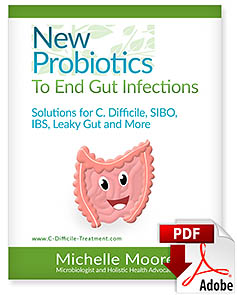 Click Here –>
New Probiotics to End Gut Infections

---
Saving Your E-book To Your Computer, Phone or Tablet
Once you open the PDF file with Adobe Reader, click on "File" and then "Save As" to download and keep on your device. Be sure to remember where you save it.
Download FAQ's
If you have any questions or problems with downloading click here.
About Adobe ".pdf" files
The e-book is in Adobe pdf format and we highly recommend using Adobe Reader to read these files. If you do not have the free pdf reader program from Adobe, download instructions are here – be sure to chose Mac or PC as well as your operating system: https://get.adobe.com/reader/
Contact Us
If you have any trouble downloading, please contact us here and we will help you.
Be well,
Michelle and Les Moore
Founders of Embrace Health, Inc.